Information for Spanish Classes During our School Closure
Dear students and legal guardians,

On this page, students can find resources to use during the Livermore school closure. Here, I have included some websites with different activities, songs, and games that students can use at home. Students will be able to select which activities or/and website they want to use.

When scrolling down this page, students can find links for songs and topics for each grade level. On the left side of this page, they can also find links for different websites and a Spanish blog.

There are also lists of k-2nd songs that we use in class. Some of those songs are for singing and others are also for dancing. Furthermore, I have included Spanish topics for each grade level.

3rd to 5th-grade students will soon receive a link and a code from their main teacher to register for our Duolingo program. I will check their progress as they use Duolingo. Students who already have a Duolingo account will need to use the new link and code so that I can check their work. Students should also use their own names and school emails so that I know who they are and can check their progress. Please don't write fake names on the account.

As for the 4th and 5th-grade quizzes, they have been canceled.

Check my blog for current new information on assignments and other news.

To contact me please send me an email to msaporito@lvjusd.org

Gracias

Mrs. Saporito
Spanish Songs for Kindergarten

Diez deditos por José- Luis Orozco Click Here
El popurri de las manos por Canta juego Click here
Cinco patitos por José- Luis Orozco Click here
La araña pequeñita por José- Luis Orozco Click here
Chocolate por José- Luis Orozco Click here
Chocolate por video kids tv Click here
Juanito cuando baila por José- Luis Orozco Click here
Hace frio por Sesame Street Click here
Hace calor por Sesame Street Click here
Quiero ser tu amigo por Sesame Street Click here
Si usted está feliz por Dr. Jean Click here
Familia dedo Click here
La cucaracha Click here
Los bomberos por Susy Dorn Click here
Arriba, abajo por Nereida Smith
Cabeza, cintura por Nereida Smith
Con mi dedito por Cantajuego Click here
Ronda de los conejos por Cantajuego Click here
Cancion del ómnibus por Xuxa Click here
Estatua por Xuxa Click here
Danza del mono por Xuxa Click here
Bailando el bugui bugui Click here
Días de la semana
Meses
The Maxarena por GoNoodle Click here
El baile de los pajaritos Click here
El baile de la ranita por Tatiana Click here
Da una vuelta en tu lugar Click here
Las mejores canciones para bailar y cantar por Duo Tiempo de Sol Click here
Mix Canciones de animales por Duo Tiempo de Sol Click here

Kindergarten Topics:

1.Days of the week

Months of the year
Seasons
Weather ( It is cold; it is sunny; it is hot; it is rainning, it is windy; it is cloudy)
Numbers to 30
Colors and shapes
Greetings and saying his/her name
Directions (up, down, foward and back)
Animals (domestic and wild)
Sizes ( big and small)
Body parts
Community helpers
First Grade SONGS

Sal y pimienta por Susy Sorn Click here
Mariana por Gallina Pintadita Click here
Chocolate por José- Luis Orozco Click here
A limpiar por Rockalingua
Hace mucho frio por Hop and Skip
Los tres cerditos por Anna Lomba
Mama pata por Anna Lomba
Las emociones por Susy Dorn Click here
El camion azul por canta juego Click here
Opuestos por Dr. Jean Click here
Luna Lunera por Alma Flor Ada y Suni Paz
Ronda de los Conejos por Cantajuego Click here
Baile de la fruta por Pica-Pica Click here
Arriba, Abajo por Nereida Smith
Cabeza, cintura por Nereida Smith
Estatua por Xuxa Click here
Baile del mono por Xuxa Click here
Cabeza, hombros, piernas y pies por Xuxa Click here
Juanito quando baila por José- Luis Orozco Click here
Chuchuua por Dayiro y sus ardillas Click here
La mascota ( Pollito Pio) por Pim Pau Click here
Yo me muevo hacia adelante por Cantajuego Click here
Pongo una mano por Atención Atención Click here
The Maxarena por GoNoodle Click here
El baile de los pajaritos Click here
Chango Marango por Tatiana Click here
Da una vuelta en tu lugar Click here

First Grade TOPICS

Days of the week (what day is today? What day was yesterday? What day is tomorrow/)
Months of the year
Seasons
Numbers to 50
Weather (It's cold; It's hot; It's windy; It's raining; It's cloudy)
Greetings and farewells
Please; Thank you; You are welcome.
Asking and answering how someone is doing (How are you? Well, very well, not so well, bad, very bad)
Feelings (I am happy; I am sad; I am bored; I am scared; I am surprised…)
Body parts plus the article the (el, la, los, las)
Colors
Opposites: left and right; up and down; pretty and ugly; happy and sad; big and small; dark and light; day and night…)
Animals (farm and wild animals)
Foods (different types of foods)
Day and Night ; The moon and the sun
2nd Grade SONGS

Hoy es domingo por Dr.Jean Click here
Utiles escolares por Dr. Jean
Somos como las flores por Charlotte Diamond Click here
Siete dias por Dr. Jean Click here
Opuestos por Dr. Jean Click here
Los colores por Basho Click here
Los animales del mar por Susy Dorn Click here
Rimas 2 por Susy Dorn
La casa loca por Susy Dorn Click here
Las frutas por Susy Dorn Click here
El barquito por Jose-Luis Orozco Click here
El barquito por Marta Gomez Click here
Gloria and Rosita Sing a Song by Sesame Street Click here
Habia una vez un avion por Cantajuegos Click here
Canta a, e, I, o, u por Cantanto aprendenedo a hablar Click here
Chuchuua por Dayiro y sus ardillas Click here
La mascota ( Pollito Pio) por Pim Pau Click here
El baile del gorilla por Melody Click here
Estatua por Xuxa Click here
El baile del mono por Xuxa Click here
Veo veo por Minidisco Click here
Soy una taza por Minidisco Click here
Los animales por Minidisco Click here
Mueve la colita por Minidisco Click here
Chi ki cha por Minidisco Click here
The Maxarena- Maximo by GoNoodle Click here
Danza Kuduro Click here
Zumbatonic routine to Danza Kuduro Click here
Zumba Kids Macarena Click here
Da una vuelta en tu lugar Click here

2nd Grade TOPICS

Days of the week ( Today is…. Yesterday was …. Tomorrow will be….)
Months of the Year
Seasons
Numbers to 100
Colors (Review and use in sentences orally)
Weather (It's cold; it's very cold; It's a little cold; It's hot; it's very hot; It's windy; it's very windy; it's a little windy; it's raining, it's raining a lot; it's cloudy; it's very cloudy;) Weather around the world in different countries
Greetings and farewells ( Hi; Good morning; Good afternoon; Good evening/Good night; Bye; I will see you later.); Please; Thank you; You are welcome
Questions and answers such as: What is your name? My name is……,; How are you? ; I am _______ ( well, very well, okay, bad, very bad, sad, happy, sick, tired, surprised, scared…; How old are you? I am …… years old.
Family and pets and saying how many brothers, sisters, dog and etc one has as well as saying their names.
Review body parts with the article the: el, la, los, las
Review colors
Use different nouns, verbs and adjectives through songs and books
Classroom items such as pencils, pens, erasers, paper, sharpeners, books, rulers.
Nature, environment and the planet: water, tree, river, ocean, trees, flowers, forests, fields, sun, stars, moon, sky, Earth…
Sizes of objects
Directions
Introduction to the concept of feminine and masculine, singular and plural articles, nouns and adjectives
Tricksters Stories
Other units: Dragons and Fire
3rd Grade SONGS

3rd Grade TOPICS

Caring/ Classroom Rules/ Procedures
Greetings (Conversing and writing dialogue with a type of greeting, asking how is someone doing, answering and then using a type of farewell.
Understanding and using the sounds of vowels and consonants in Spanish during conversation, reading and singing.
Singing and discussing different vocabularies and pronunciation using different songs.
Understanding the rules for feminine, masculine, singular and plural forms of articles, nouns and adjectives in Spanish.
Using in sentences and conversations masculine/feminine and singular and plural articles ( el, la, los, las/ un, una, unos, unas), nouns (about clothing, animals, body parts and etc and adjectives ( Ex of colors: rojo, roja, rojos, rojas/ verde, verdes, /azul, azules….), Exemple of other adjectives alto, alta, altos , altas/ grande, grandes.
Saying numbers to a billion, and writing numbers to 50
Saying and writing the date
Months of the year, seasons and days of the week
Identifying and describing the weather in different parts of the world and in Livermore.
Identifying the days of the week and months of the year in oral and written forms.
Identifying different action verbs
Identifying different adjectives and using them in sentences
The use of the verbs "es" and "son" in sentences.
Identifying different types of clothing and their color as well as describing in oral and written form what they are wearing and what they wear during the different seasons.
Identifying different animals and writing sentences to describe their colors
Identifying different classroom items
Identifying and communicating about different types of feelings such as sad, happy, tired, bored, mad…
Reading, talking about different holidays as well as using the different vocabularies for those holidays such as Day of the Dead, valentine's day, and Thanksgiving.
Identifying and using different body parts in sentences and communications.
Reading very short and beginning level stories
Answering simple comprehension questions in writing.
Writing about "an imaginary monster" where they introduce their monsters' name, age, physical description and character.
4th Grade SONGS

Dias de la semana por Rockalingua Click here
Meses por Rockalingua
Receta Guacamole version facil por Rockalingua
La familia por Rockalingua
Las frutas por Rockalingua
Cosas de la escuela por Rockalingua
De colores por Joan Baez Click here
De colores por Marta Gomez Click here

4th Grade TOPICS

Caring/ Classroom Rules/ Procedures (August- September)
Basic greetings and questions ( August- October)
Spanish Alphabet (October-November)
Pronunciation ( all year)
Family (October-December)
Presenting oneself: name, age, family members and pets (October –December)
Dates (all year)
Days of the week (January)
School subjects (January- February)
School Vocabulary (January- February)
School materials ( Writing a description of items inside students' backpacks (March)
Writing about favorite subjects in school, teacher and what days they have certain subjects (February)
Numbers 1-10, 10-20,20-30, 30-100) ( All year)
Food ( different types of food, ordering food ( March- April)
House Items and Places in the House ( April)
Clothing and Weather ( May)
Writing a paragraph with ten sentences or more introducing themselves, their age, where they live and with who, the names and ages of their family members, pets names, their school name, teacher's name, their favorite subject in school, what days of the week they have certain subjects, their favorite foods, foods they like and dislike, describing their house, and clothing they wear. ( Aug- May)
5th Grade SONGS

Paises de habla hispana por Rockalingua Click here

Buenos dias por Rockalingua
Los meses por Rockalingua
Dia de los muertos por Rockalingua
La familia por Rockalingua
Aficiones por Rockalingua
La granja/Animales por Rocklalingua
Las profesiones por Rockalingua
Ulala por Rockalingua
Sentimientos por Rockalingua
The weather song por Rockalingua
The time song por Rockalingua
Preposiciones por Rockalingua
Mi amigo Bob por Rockalingua
Verb Conjugation por Rockalingua
Los pronombres por Senor Ranke Click here
Tener Conjugation Song por Adriana Calarza Click here
Tener Song por Michelle Witter Click here
Ser song por Senora Rau Click here
Estar song por Rachael Hawkes Click here
Verbs with "AR" ending Conjugation Song by Senor Jordan Click here
O, AS, A, Amos, An, Otra Vez por Sr. Keldsen Click here
Billy la bufanda por Senor Wooly Click here
Caballito de mar por Cantoalegre Click here
El tren se va por Cantoagre Click here
Marinero por Cantoalegre Click here
Canta la lluvia por Cantoalegre Click here
Carta al viento por Cantoalegre Click here
Jugando al eco por Cantoalegre Click here
Tin tin por Cantoalegre Click here
Habia un sapo por Cantoalegre Click here
Tomorrow song from Annie in Spanish Click here
Cielito Lindo por Pavarotti / Enrique Iglesias Click here
Mi cocodrilo Verde por Caetano Veloso Click here
Recuerdame from Natalia Lafourcade Click here
Quizás, Quizás, Quizás por Daniel Boaventura y Carlos Rivera Click here
El destino por Carlos Rivera y Natalia Jimenez Click here
Navidad Rock por Tatiana Click here

5th Grade TOPICS (Dates may change)

Caring/ Classroom Be Rules/ Procedures (August- September)
The 21 Spanish Speaking Countries (September)
El flamenco ( Dance and music of Spain), as well as different regions and monuments in Spain (September)
Learning different types of (January-February) + Me gusta __________. No me gusta________Me encanta _____________. Me gusta mas __________________. ( October-November)
Day of the Dead ( October)
Basic greetings, introductions, questions and answers (October-November)
Numbers Writing 1-10, 10-20, 20-30, 30-100 ( Oct- May)
Some Nationalities: (feminine, masculine, singular and plural forms) & languages ( November)
Review the Spanish alphabet (November)
Vowel and Consonant sounds ( Be able to recognize and pronounce different vowel and consonant sounds in Spanish) (November-May)
Pronouns (yo, tú, él, ella , usted, nosotros, vosotros, ellos, ellas and ustedes) Be able to recognize and understand the meaning of those pronouns as well as use them in sentences and conjugations of different verbs such as verb ser, tener and verbs ending in AR. ( October-February)
Conjugating and using the verb tener in sentences in the present tense.(December- January)
Identifying different expressions with the verb tener. (December-January)
Review family members and use the verb tener to describe how many different family members students have and their ages. (December-January)
Differences between the verb ser and estar (January-February)
Conjugating and using the verb ser in sentences in the present tense. (February-March)
Using the verb tener and ser to write describe people's personalities and physical features. Students will write paragraphs describing themselves and a friend. ( February-March)
( Be able to ask about the weather and describe different types of weather such as for example: ¿ Qué tiempo hace hoy? Hoy hace sol. Hoy hace calor. Hoy hace buen tiempo y un poco de viento. Hoy hace mal tiempo. Hoy hace frio. Hoy está lloviendo. Hace mucho calor. Hace mucho viento. Yo, tú, él, ella , usted, nosotros, vosotros, ellos, ellas and ustedes) ( December- January)
Verbo estar + feelings (Example: Estoy enfermo/enferma….) ( March-April)
Several verbs in the infinitive such as: cocinar, comer, bailar, cantar, dibujar, pintar, escribir, leer, correr, trabajar, estudar, beber/tomar, jugar… (March- April)
Conjugating AR verbs in the present and using them in sentences ( February-March)
Transportation ( by car, by bus, by airplain…) ( March)
Comparing vocabulary about a city (la ciudad) and town ( el pueblo): edificios, calles, coches, mucho ruido, mucha gente, poca gente, tienda, granja…
The verbo ir used in the sentences refering to oneself (first person of the singular YO) Where are you going? ¿ A dónde vas? ir Voy a la ______________ en _______, Voy al ______________ en ______________.(March)
Using in sentences the concepts of (to + the) = a la , a las, al, a los ( March)
Verbo estar + feelings (Example: Estoy enfermo/enferma….) ( March)
Telling Time: Using regular clocks and digital clocks to tell time by the hour, ½ hour, minutes… (April)
Using different prepositions in sentences to describe the location of different objects. ( Preposiciones: encima, debajo, delante, detrás, al lado, al otro lado, enfrente, entre, cerca, lejos, a la derecha, a la izquierda, dentro, fuera, en) Examples: ¿Dónde está mi tarea? Está encima de la mesa. (April)
Differences of when to use the Verb ser and Estar. ( Only Introduction to this concept) (April)
Writing paragraphs introducing themselves, their name, age, where they are from, where they live, their nationalities, their physical descriptions, and personalities, activities they like to do, things they don't like to do. They should also introduce and write about the people they live with. Students will also write about a friend or a family member and escribing his/her personality and physical features.

Other 5th Grade Topics throughout the Year:

The numbers are written correctly from 0-100.
Alphabet review
Vowel Sounds ( Isolated pronunciation and pronunciation within words and sentences)
Pronunciation of words and sentences through reading, speaking and singing.
Consonant Sounds (Isolated pronunciation and pronunciation within words and sentences)
Gender and Number Agreement (For articles, nouns, and adjectives)
Punctuation and Spelling of Words
Sentence order and patterns
Holidays: Day of the Dead, New Year, Valentine's Day and etc.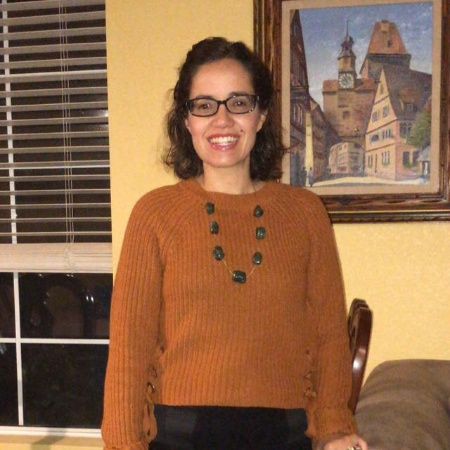 Phone:
Email:
Degrees and Certifications:
Mrs.

Saporito

Dear Joe Michell families,

¡Bienvenidos a nuestras clases de español! Welcome to our Spanish classes! This is my 6th year at Joe Michell teaching Spanish to students from kindergarten to 5th grade. It is a pleasure for me to see old faces in my classes as well as new ones. Before coming to Joe Michell I taught Spanish in two bilingual schools and math in a middle school.

Learning a second language can be fun and useful in today's diverse world! As for me, using different languages and experiencing with different cultures are part of my life! My grandparents were from Italy and Portugal. I was born in Brazil, lived in Mexico, is married to a German American, have traveled to different countries and have been in California for the past twenty-six years! I speak English, Spanish, Portuguese and some Italian. Learning languages can enrich our own language, culture and experiences!

During our classes, students are exposed to Spanish in a natural and useful way. They learn Spanish by using the language. During elementary school years, students are exposed to Spanish through singing, dancing, playing games, speaking and working with partners or in small groups. Students in 3rd-5th grades also practice Spanish through reading and writing.

By the end of 5th grade some of the topics we will have covered since kindergarten are greetings, colors, numbers to 100, seasons, animals, shapes, weather, days of the week, months of the year, the alphabet, pronunciation, reading, spelling, food, family, places in our community, community helpers, occupations, subjects in school, school materials, clothing, holidays, nature, Spanish speaking countries, feminine and masculine articles, nouns and adjectives, action verbs, prepositions, the usage of articles, adjectives, nouns and verbs in sentences that agree in gender and number, personal descriptions through oral and written communication that include name, age, place of origin, physical description, family members, hobbies and favorite foods and favorite subjects in school.

Students in kindergarten to 2nd grade have Spanish once a week, and those in 3rd to 5th have it twice a week. To become proficient, they need a lot more exposure and practice with the language. One way have some exposure to the language is to use Spanish online sites.

Thank you for your support at home with our Spanish program!

Sincerely,

Marianne Saporito