Return to Headlines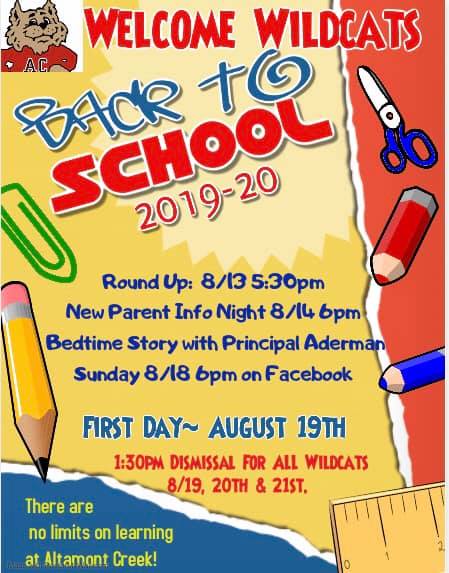 Dear Wildcat Families,
In just a few weeks we start our 2019-2020 school year! It is going to be an amazing year of learning for all of our Wildcats!
Round Up: Please plan to attend the Wildcat Round Up on 8/13 in our multi-purpose room. This drop in event runs from 5:30-7:30pm. Come pick up your child's class assignment, join the PTA, purchase new Altamont Creek apparel, find out the scoop on the new school year, see old friends, and meet new friends. You can even enter the raffle to be "Principal for the Day"!
New Parent Info Meeting: New parents, please plan to join us on 8/14 from 6:00-7:00pm for an informational meeting on the school procedures.
Office Hours: The school office will reopen on August 5th from 9AM - 3PM and closed from 12 - 1 for lunch. Regular school site office hours resume on August 12, 2019. Please check your school's website for details.
Bell Schedule: See below
ACE is truly a special place. As we begin our launch of our new school year, we ask that you continue to stay involved by bringing positivity, energy and creativity to our school as we continue to strengthen our programs. Our stakeholders are our greatest strength and greatest resource. Together, we can drive ACE and our mission even further. To those of you who are new to ACE, the entire school welcomes you to a very special community. Our school is a place where children come to learn and a place they feel special.
At Altamont Creek Elementary, your Wildcats will be expected to engage in reading, writing, discussing, critical thinking, problem solving and hands-on learning. The vast majority of learning occurs in the classroom with the teacher and classmates. Students will collaborate, communicate, think, experiment, and reflect throughout each day. Therefore, being in class is very important for each student, every day, all day. When Wildcats miss school – they miss out!
Our commitment to a hands-on, tactile, kinesthetic project-based learning develops students' critical thinking, problem-solving, motivation, communication, and cooperation. Project based learning is woven throughout the academic model through high standards for student behavior, applied learning, student choice, and continuous feedback; developing decision-making and self-regulation; and learning from "failures".
ACE Points of Pride:
▪ Gold Ribbon School
▪ Green Ribbon School
▪ Kindness Certified School
▪ Weekly School Wide Celebrations (Wednesdays at 8:30AM)
▪ Positive Behavior Intervention & Support: PBIS is a process which focuses on improving our school's ability to teach and support positive behavior for all students.
▪ Kid Connection, Lunch Bunch & Social Thinking: We have multiple programs that provide students the opportunity to learn and practice positive social skills.
▪ Commitment to Fine & Performing Arts.
▪ Our Garden Classroom is a Certified Wildlife Habitat by the National Wildlife Federation. We are also certified by the Bay Friendly Landscaping and Gardening Coalition. Our garden is organic and helps students learn about nutrition and food systems. Our garden features a bird viewing area, a compost area, and an area for students to write, read, sketch and measure.
▪ Google Classroom/Digital Student Portfolios/Blended Learning.
▪ Running Club: Over 150 students participate 3X week before school.
▪ Winter Musical: Auditions will be held week 1!.
▪ Student Valet: 4th and 5th graders are trained to help with morning drop off.
▪ Family School Partnership: We believe a strong parent staff partnership is critical to our success. We have a very active volunteer base and our PTA is incredible.
▪ GATE, Intervention, Student Council, Field Trips, Clubs, Drama, Science Odyssey and MORE!
We are excited to announce:
*More resources, interventions and stretch curriculum for your children
*Growing enrichment opportunities
*Social emotional curriculum – Choose Love
*New and increased technology in the classrooms
*More literacy opportunities for parents and families
*Continuation of the wildly successful Wildcat Wow program
*New school website
*More opportunities to get involved
*New peer conflict mediator program
*More professional development for teachers
*New and improved assessments to provide better insight on your child's strengths and needs
*New clubs
*Winter Musical
*A growing and experienced staff
Below are some highlights we're looking forward to:
Round Up, Harvest Dinner, Coffee with the Principal, Book Fair, Mock Election, Talent Show, Trick-or-Dooring, Sandia Family Science Night, Halloween Parade, spirit days, clubs, 100th Day of School, Elf the Musical, Dads Football, Maker Space, Spelling Bee, Geography Bee, Robotics, Family Bingo, Science Odyssey, Wind Festival, Play Day, Hoe Down, AR Challenge, and a world record attempt!
Bell Schedule:
All Grades:
8:30AM Instruction Begins
Morning Recess
9:40 -10:00 TK – K Recess
10:05-10:20 1st/2nd Grade Recess
10:25-10:40 3rd/4th/5th Grade Recess
Lunch Times:
11:40-12:20 TK/Kindergarten
12:05-12:45 1st/2nd/3rd Grade Lunch
12:30-1:10 3rd/4th/5th Grade Lunch
Dismissal Times:
1:30 TK/Kindergarten Dismissal
2:40 1st/2nd/3rd/ Grade Dismissal
2:50 4th/5th Grade Dismissal

Wednesdays: All Grades: Grades Early 1:30 Dismissal
I hope this brief glimpse of the many exciting initiatives we have planned conveys how much we care for your children. Our doors and hearts are open. We look forward to a successful start of school, a smooth transition and a whole lot of fun to kick start our next 180 school days!
We are seeking School Site Council members. The School Site Council consists of parents and staff members. It is a state-mandated body that meets to implement our school plan. They review budgets, discuss programs, and make suggestions that improve our school. We meet the second Wednesday of the Month at 3:05PM. If you are interested, please email taderman@lvjusd.org
We are seeking Safety Committee members. We do a thorough walk through of our campus multiple times per year to keep our campus safe for our Wildcats.
In the coming weeks, you will receive emails and phone messages with important updates regarding the start of school.
IMPORTANT: If you do NOT receive an INFOSNAP email from the school district with an individual "snapcode" for each enrolled child by August 10th please contact our school office at 925-454-5575. EACH child enrolled at ACE will receive an individual snapcode and parents MUST complete the Annual Student Update to complete their registration. *****This registration must be completed to receive your class assignment at the Round Up*****
We will create, celebrate and innovate because our children deserve the very best.
There are no limits on learning at Altamont Creek Elementary.
Go Wildcats!
Attachments:
Wednesday Morning Celebrations