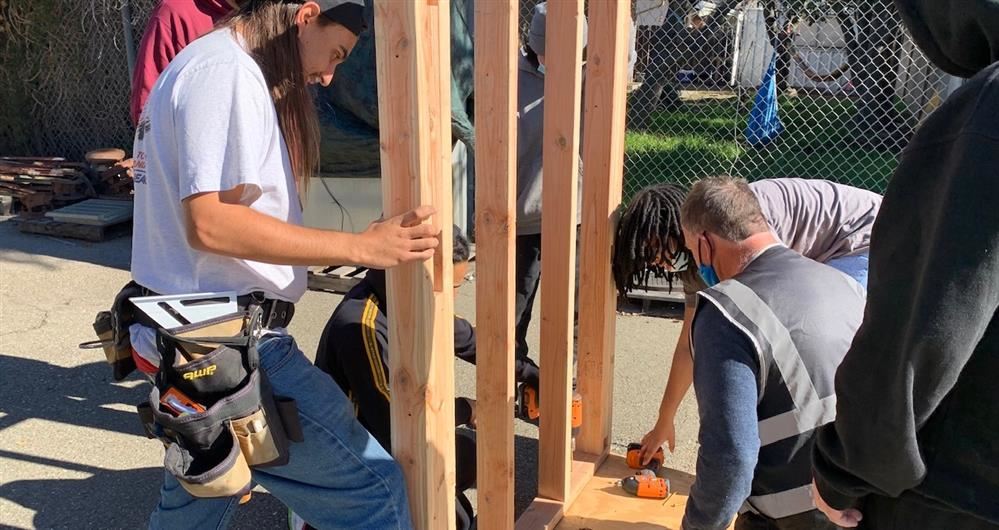 About YouthBuild

Our goal at LVJUSD YouthBuild is to equip young men and women, ages 17-24, with the opportunity for personal growth and transformation through education, career training, community service, and leadership development. By choosing LVJUSD YouthBuild, students are making the decision to gain valuable construction skills, to commit themselves to their education, and to develop a plan for moving forward toward an established career. The young men and women who apply are also choosing to connect to others in the Tri-Valley area by engaging in hands-on experiences toward building affordable housing in our community.

Who is Eligible?

YouthBuild is a "second-chance for success" program that targets young adults ages 17-24 who have not finished high school and have faced some kind of setback or disadvantage in their education. We're looking for motivated participants who want a fresh start. Along with students who meet these criteria, if you are a senior in one of LVJUSD's alternative education programs, you are encouraged to apply as well.

What is Involved?

Our 6-month YouthBuild program will involve three elements to help each person succeed. First, we will support participants to re-engage in academic work aimed at helping them pass the GED or complete their high school degree. Second, they will be certified through our pre-apprenticeship construction program, as well as participate in hands-on construction work with low-income housing. And while these two goals will be addressed Monday-Thursday, each Friday participants will learn important life skills, join in community service projects, and develop leadership skills. All of these components are important tools in finding success.

What is the Cost?

YouthBuild is free for participants. But beyond that, students can earn money each month for good attendance, participation, and program completion. What we ask in return is that each YouthBuild participant is committed to the program, and will invest themselves for all six months, each day and each experience, to take advantage of this opportunity.
How To Apply

To officially apply for YouthBuild, simply complete the Google From Application below. It's quick and easy.

OR... if you prefer a standard look, download and complete the fillable PDF version of our application below. When it's complete, email it to sjmartin@lvjusd.org. Only complete ONE application, Google Form or PDF, not both.

After you submit your application, a representative from the LVJUSD YouthBuild Program will contact you to discuss your application and the enrollment process. If you have questions, call 925-290-9927.
For more information, contact:
Steven Martin, YouthBuild Project Manager
(925) 960-2999
sjmartin@lvjusd.org

LVJUSD YouthBuild received a competitive $1.5 million grant at 75% funding from the U.S. Department of Labor to administer our YouthBuild program. LVJUSD and its partners provide a 25% match contribution toward the YouthBuild Grant. LVJUSD YouthBuild is an equal-opportunity program and auxiliary aids & services are available upon request to individuals with disabilities.